Yokoyama Yui




Series:
AKB48 Murder Mystery
First Appearance:
File 4
Last Appearance:
File 5
Number of Episode
Appearances:
3 (Files 4, 5 and Testimony File)
Actor:
Yokoyama Yui
Yuihan's Testimony
"It isn't just Renacchi, now even Yuko-san's been killed. This all has to be a lie. Well, I guess it's not the time to be saying that. Oh yeah, the "N" that Renacchi left could be the N of "Not Yet", huh?"
―Yokoyama Yui's Testimony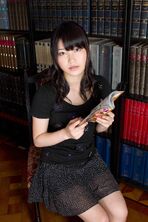 Yokoyama Yui (横山由依, Yokoyama Yui?), nicknamed Yuihan (ゆいはん, Yuihan?) and Yui
(ゆい, Yui
?); is a member of the AKB48's Team K. She is based on and portrayed by Yokoyama Yui.
Manga Version
Chapter 1
All 89 members of AKB48 went to a duplex island owned by one of Akimoto Yasushi's friends for a CM Shoot. After their first day shoot was over, they went to their designated resthouse on the other island. It was assumed that she heard that Kato Rena was missing and was shocked to learn that the scream they heard was from Sashiko finding the girl's lifeless body in the dining hall.
Ad blocker interference detected!
Wikia is a free-to-use site that makes money from advertising. We have a modified experience for viewers using ad blockers

Wikia is not accessible if you've made further modifications. Remove the custom ad blocker rule(s) and the page will load as expected.