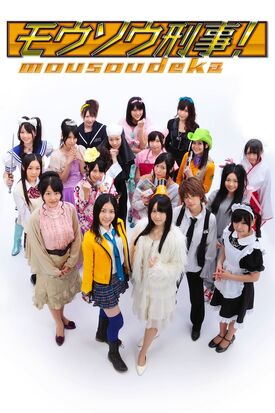 Mousou Deka! (モウソウ刑事,, Delusion Detective?) was a mini-drama which aired from January 12 until March 30 of 2011 every Wednesday by TokaiTV.
Synopsis
The owner of the hotel mansion estate, Kuwabara Mizuki was murdered, the assailant is suspected to be one of the guests.
Using her deductive delusional skills, Matsui Jurina appeared to search for the killer.
Main Characters
Cosplayers
Kuwabara Household
Kaizou Detectives
Episode List
| Episode No. | Title | Airdate |
| --- | --- | --- |
| 1 | Murder at an isolated island hotel's cosplay contest!? In this chapter ba-bam goes our Mousou Deka as she makes her entry, etc. | January 12 |
| 2 | The culprit is a nurse?! In this chapter I kinda had a mousou with mikan stuffing and fishnet stocking, etc. | January 19 |
| 3 | A beautiful crossdresser's sad past!? An atrocity at the end of a tragic love affair? In this chapter, I was kinda moved by a tenor sax's heartrending sound, etc. | January 26 |
| 4 | Save the legendary miko that has been taken by the evil cowgirl! In this chapter, some tuna explodes violently after receiving a cat-eared sailor uniform soldier's iron fist, etc. | February 2 |
| 5 | Yikes! A mass confession full of women! The shadow of doubt creeps upon an innocent-looking nun!? In this chapter, I kinda want to pray the most, etc. | February 9 |
| 6 | The enka singer that doesn't cry nor fly, in a gritty play of sweat and tears! In this chapter, the canary that is tired from singing... anyway, first of all I'm the one who wants to sing, etc. | February 16 |
| 7 | The mysterious woman holding a blood-stained knife... Has the real culprit finally appeared!? So, who are those Kaizou Dekas? In this chapter, I kind of don't get it, etc. | February 23 |
| 8 | I feel it, I see it, I smell it... Who the heck are they!? In this chapter... hang on, hang on! I'd like it if you'd stop copying me, etc. | March 2 |
| 9 | The forbidden pure love... No one can stop them from loving each other... In this chapter, those kind of things kinda make my heart beat faster, etc. | March 9 |
| 10 | Love, hugging, honeymoon, hatred, fighting, and then tragedy, tears, tears, tears... In this chapter, crap now I absolutely know who the culprit is, etc. | March 16 |
| 11 | Runaway mousou. The Mousou Deka inside the mousou... In this chapter, I can't have mousou anymore, etc. | March 23 |
| 12 | If the Mousou Deka doesn't have mousou, what will happen in real life!? In this chapter, so anyway, the Mousou Deka is forever immortal, etc. | March 30 |
External Links
Ad blocker interference detected!
Wikia is a free-to-use site that makes money from advertising. We have a modified experience for viewers using ad blockers

Wikia is not accessible if you've made further modifications. Remove the custom ad blocker rule(s) and the page will load as expected.