Iriyama Anna




Series:
AKB48 Murder Mystery
First Appearance:
File 1
Last Appearance:
File 5 (cameo)
Number of Episode
Appearances:
3 (Files 1, 5, and Testimony File)
Actor:
Iriyama Anna
Annin's Testimony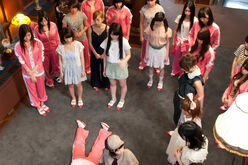 Iriyama Anna (入山杏奈, Iriyama Anna?), nicknamed Annin (あんにん, Annin?), is a member of AKB48's Team 4. She is one of the primary characters in AKB48 Murder Mystery series. She was based on and is portrayed by Iriyama Anna.

Testimonial
Edit
"It's a shock. I'm the same generation as Renacchi. Generation 10. The Gen10 members? Me, Renacchi, Abe Mariya, Ichikawa Miori, Izuta Rina, Kobayashi Marina, Nakamata Shiori, and Fujita Nana. Those 8. I think these members are definitely not the culprits. It's the generation bond."
―Iriyama Anna's Testimonial